(We feel it, we feel it, Oscar is Present!)
The tens of thousands that visited Fiesta Boricua last Sunday for the music, food and entertainment were also treated to a visual feast of theater, art and popular education as the campaign to free Oscar López Rivera, who is serving his 31st year in federal prison for struggling for the independence of his country, Puerto Rico. From a banner picture on the main stage explaining that Oscar founded one of the oldest educational institutions in the community, Dr. Pedro Albizu Campos High School, to artisan bags made expressly to contain Oscar merchandise to a detailed timeline of Osca'r struggle for the past 3 years, Oscar was present throughout Fiesta Boricua.
Chicago NBHRN members, along with visiting Providence, RI, Cleveland, OH, Orlando, FL and New York Network members, raised money and carried out popular education by erecting a 6×6 cell and taking turns in the cell, asking the community to raise $100 to get each member out of the cell. As part of the general consciousness raising, a "Free Oscar!" mural was painted for the occasion.
Simultaneously, teams of Network activists walked up and down Fiesta and by day's end, had gotten over 600 letters to President Obama signed. The Network is collecting all letters to send them to the White House in the near future, and the most current version of the letter may be downloaded from our website here. New t-shirts, buttons, DVD featuring the "31 Days for 31 Years" video and a brochure were also produced for the occasion and may be ordered from michellem@boricuahumanrights.org.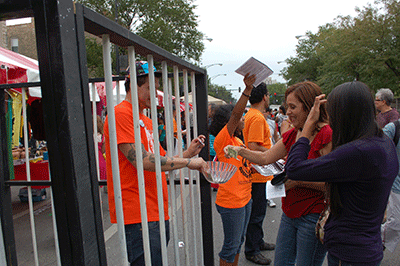 A small bag was custom produced and contains a t-shirt, DVD and button and sells for $10 plus s/h.