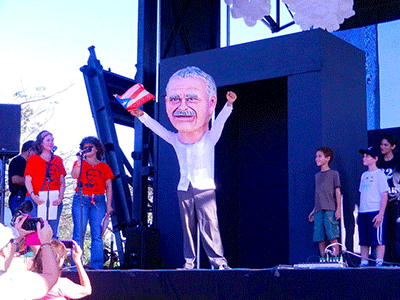 The series "Manos en la Cristal" is published online by the Puerto Rican newspaper El Nuevo Dia (endi.com) every Saturday in Spanish and is the correspondence by Oscar Lopez Rivera to his granddaughter, Karina.
The title, "Hands on the Prison Glass" comes from an essay originally written by Karina and her mother, Clarisa, for the catalogue produced for "Not Enough Space", the traveling art exhibition of Carlos Alberto Torres and Oscar's art, and has evolved into a moving metaphor for reaching beyond the prison's dehumanizing environment and communicating with his daughter and granddaughter through the prison walls. Download/read the story Manos de cristal-web.
All the letters in Spanish are here. You will be directed to a Google doc with links to all the letters in Spanish (15 as of Jan. 11, 2014) on the El Nuevo Dia Interactivo website, in a new window.
The links to the letters will become live as we post new translations.
The letters in English:
1st Letter of Oscar Lopez Rivera to his granddaughter Karina: "The Hands on the Glass"
Published September 7, 2013
2nd Letter of Oscar López: "Where the Sea Breathes"
This is the second letter of López to his granddaughter Karina
Published September 14, 2013
3rd letter: Letter of Oscar López: "The reason behind all struggle"
Published September 21, 2013
4th Letter of Oscar Lopez Rivera: "A Silent Shadow"
Published September 28, 2013
5th Letter of Oscar Lopez Rivera: "The History of Jibara Soy"
Published October 5, 2013
6th Letter of Oscar Lopez Rivera The Hands on the [Prison] Window: To be who we are
Published October 12, 2013
7th letter of Oscar López Rivera: "Everyone Listened"
Published October 19, 2013
8th Letter by Oscar Lopez Rivera: "In the Face of Fear"
Published October 26, 2013
9th letter by Oscar López Rivera: "Free Air on One's Face
Published Nov. 2, 2013
10th letter by Oscar López Rivera: "The Dance of Memory"
Published November 12, 2013
11th letter by Oscar López Rivera: "Prayer Between the Wires"
Published November 23, 2013
12th letter by Oscar López Rivera: "A Perfect Window"
Published November 30, 2013
13th Letter by Oscar Lopez Rivera: "The Presence of Mandela"
Published December 14, 2013
14th Letter by Oscar López: "Christmas in Terre Haute"
Published December 28, 2013
15th letter by Oscar López Rivera: The offer I didn't want
Published January 11, 2014