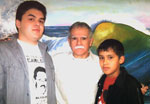 Please make sure to download the letter supporting Puerto Rican Political Prisoner Oscar Lopez Rivera's parole effort and please mail to the following address:
Chairman Isaac Fulwood, Jr.
U.S. Parole Commission
5550 Friendship Blvd. Suite 420
Chevy Chase MD 20815-7286
USA
Please send an email to alejandrom@boricuahumanrights.org letting us know how many you have been able to mail. The National Boricua Human Rights Network will let our supporters know of the Parole Examiner's decision as soon as we know. Please forward and distribute widely!