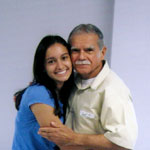 As the right-wing mobilizes against Oscar's parole appeal, we must increase our efforts. Please do the following immediately and every day until we hear of a decision. Download the letter to fax here and the sample phone script here.
WE CAN FREE OSCAR,
Alejandro Luis Molina
Apparently the Parole Commission has notified the "victims" that on May 10, the Commission will discuss Oscar's case, and will make a decision soon thereafter. The right wing is mobilizing to flood the Commission with messages opposing his parole.
This is our last opportunity to let the Parole Commission know we support his release. Call 301/492-5990 and Fax 301/492-5543
TODAY and EVERY DAY until we are notified of the decision. Download the letter here and sample phone script here.
The message is simple:
I am (YOUR NAME), calling from (YOUR CITY), to support parole for Oscar López Rivera, 87651-024. Please order his immediate release.
You can also add one or more of these comments:
* 30 years in prison is enough;
* all his co-defendants have been released, living productive, law-abiding lives;
* his release is supported by the United Nations, the entire civil society of Puerto Rico, and communities and officials throughout the United States.